Jim Corbett National Park Travel Guide & Safari Booking Information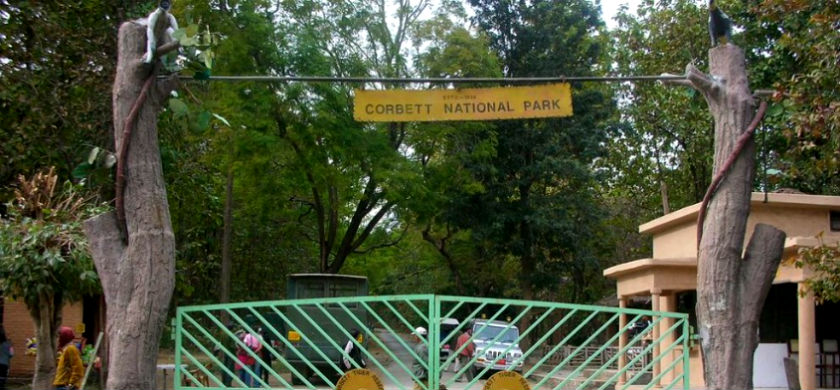 Corbett Tiger Reserve is the oldest tiger reserve of India. It is the first ever declared national park of Asia in 1936. In serene beauty & biodiversity this is matchless place. Initially it was named as Hailey National Park but later renamed as Corbett National park after famous James Edward Corbett. Mr James was initially a hunter but later contributed a lot in conservation of this area. It is also the first park which was included in Tiger project scheme of India in 1973.
This tiger reserve today covers an area of about 1300 sq kms and spread in three districts of Uttarkhand i.e Pauri, Nanital & Almora. Corbett National Nark has area of 521 sq kms & near by Sonanadi and other Reserve area makes Corbett Tiger reserve.
The geographic location makes it more important. It is situated between Shiwalik Himalayas and Terai region so it has characteristics of both Himalayan ecosystem & plains ecosystem. The landscapes are breathtaking. River, lakes, high mountains & large grassland are part of it. You will feel real jungle here.
The most important attractions of Corbett are Royal Bengal Tigers & Asiatic elephants. Beside this it has 650 species of birds which makes it the paradise of birding for birdwatchers. No birding itinerary is possible without Corbett even with Ranthambore and Keoladeo – Bharatpur bird sanctuary in North India. Beside this some area of Nanital is must for birders.
It has been Declared as "Important Bird Area" by Birdlife International.
How to reach Corbett:
To visit Corbett one has to reach Ramnagar City. It is well connected by train & by road from major cities like Delhi & Lucknow. You can drive from Delhi to Ramnagar by private car.
From Delhi the route is like this: Delhi – Moradabad – Kashipur – Ramnagar (250kms/05hrs)
From Nanital the route is like this: Nanital via kaladhungi (70 kms/ 03 hrs)
From Lucknow the route is like this: Lucknow – Bareilly – Kiccha – Rudrapur – Kashipur – Ramnagar (440 kms/08hrs).
From Dehradun the route is like this: Dehradun – Ramnagar (230 kms/04 hrs).
From Agra the route is like this : Agra- Aligarh- Samabhal – Muradabaad- Ram nagar (300 kms / 06 hrs)
Best time to visit Corbett:
From October to March as wild life is at its best with temperature between 05 C to 30 C. From March to June the temperature is about 40 C but sightings of tigers & elephants increases. The heart zone Dhikala opens from 15 Nov to 15 June. In winters woollen clothes are must.
Bijrani & Durgadevi zone opens from 15 oct to 15 June.
Sonanadi & Dhela opens throughout the year.
Tourism Zones In Corbett:
From Tourism point of view it has six ecotourism which are as below.
Dhikala (18 km from Ramnagar), Bijarani (01 km from Ramnagar), Jhirna (16 km from Ramnagar),
Sonanadi, Durgadevi(36 km from Ramnagar) & Dhela (13 km from Ramnagar). Each zone has separate gate for entry.
Accommodation inside the Corbett reserve:
Corbett is among few places in India which gives you chance to interact with nature closely by giving you opportunity to stay inside the heart of forest. These stays give you basic amenities but life time experience. Canteens & kitchens are there for food purpose. At some places dormitory is also available.
The zone wise accommodation facility is also available inside the Corbett tiger reserve. FRH i.e Forest Rest House.
Bijrani – Bijrani FRH & Malani FRH
Dhikala – Dhikala FRH, Sultan FRH, Sarpduli & Gairal FRH
Jhirana – Jhirana FRH & Dhela FRH
Sonanadi – Halduparo FRH, Mudiapani FRH & Rathuwadhab FRH.
Beside this there are hotels for every budget outside the park every client.
NOTE: Minimum 01 night to maximum 03 nights stay is possible with Night stay permit. In night stay one have 02 safaris i.e one in afternoon on check in day & other next day morning.
Safari System:
What one can see?
Tigers & rare species of otters, fish eating crocodile, fifty species of raptors, four or five species of deer and lots of birds.
Booking facility for day visit safaris & accommodation is being provided by forest department website. Better to take help of local or good wildlife operator.
Elephant Safari:
Now a days elephant safaris had been withdrawn from safari system. No elephant safaris are conducted from tourits season 2019.
Jeep safari:
These safari are for Zones like Bijrani, Jhirna & Sitabani. Two safari are there one from 06:30 am to 10;00 am & 01:30pm to 05:30 pm. There is difference in costing due to difference of distance.
If you are staying insides the zone for night stay then entry time is 10:00 am to 04: 00 pm.
Canter safari:
If you are staying out of Corbett national park & want to visit Dhikala then canter is best option. There are two safaris by 16 seater canter (open bus). These safari are long enough i.e morning from 06:00 am to 11:30 am & afternoon is 12:00 pm to 05:30 pm.
Beside this tracking on foot is also done in some areas.
In nutshell this place gives you every kind of experience for Wildlife. Must to visit once in a life!