Bandhavgarh National Park Safari
---
Welcome to Bandhavgarh National park which is one of the important parks of Madhya Pradesh (Central India). It covers an area of 1536 sq. kms all together in three districts i.e. Umaria, Katni & Shadol of Madhya Pradesh (Central India). Bandhavgarh is located between Vindhyan Hills and eastern parts of Satpura ranges.
Bandhavgarh is lush green forest mainly consisting of Sal trees & Mixed Deciduous forest. Many areas have green grass meadows & bamboos.
Bandhavgarh is blessed with Highest density of tigers. Sometimes almost 08 tigers per sq. km. This puts Bandhavgarh in top tallies of parks which are famous for Big cats' sightings like Ranthambhore, Pench & others.
There are about 100+ tigers, 80 + leopards, 30 + sloth bears, 260 species of birds,34 species of mammals, 70 species of butterflies.
Location & how to reach Bandhavgarh
Bandhavgarh is located in Umaria district of Madhya Pradesh. It is 32 kms (0:30hrs) from Umaria, 97 kms (02:30 hrs) from Katni, 97 kms (02:30 hrs) from Shadol, 117 kms (02:30 hrs hrs) from Rewa & Satna, 170 kms (03:30hrs hrs) from Jabalpur, 207 kms(04hrs) from Kanha national park.
The nearest airports are Jabalpur, Nagpur (450 kms/ 07 hrs) And Khajuraho 226 kms (04 hrs).
From other parks it is 04 hrs drive from Kanha , 02 hrs drive from Sanjay Dubri national park, 04:30 hrs drive from Panna national park, overnight train journey from Ranthambhore & Agra.
Safari Zones & Gates in Bandhavgarh
From tourism point of view, the park is divided into 06 zones. Out of them Tala, Magadhi, Khitauli are core area & Dhamokhar, Johila, Panpatha & are buffer area.
The main entrance gate is Tala. The other gates like Magadhi & Khitauli are also nearby within 06 to 08 kms area.
Night Stay facility inside Bandhavgarh
Bandhavgarh has doesnot have night stay facility in its cores areas. Few small guest houses are located at the entrance gate itself. They can be booked by department office.
Private hotels: There are many private hotels scattered around Tala Gate.
Opening & closing date of Bandhavgarh & weekly off.
Bandhavgarh opens from 01"st October to 30"th June every year. The Core zones do not open in monsoon season i.e. July, August & September. Only buffer zones open in rainy season.
Bandhavgarh does not offer safari in afternoon shift on every Wednesday. Besides this the park remains close completely on festival of Holi in the month of March every year.
Types of safaris in Bandhavgarh
Broadly safari can be classified into 05 types Bandhavgarh.
1.Normal Safaris: Mostly safaris are done by jeep (06-seater) in Bandhavgarh. There are only 02 Canter (20-seater open bus). There are 02 shifts i.e. morning & afternoon. Morning shifts are longer here (till 11:00 am). Afternoon safaris are shorter here & a smaller number of jeeps are allowed. However, number of canters are same for morning & evening shifts.
Note: In Bandhavgarh mostly jeeps are booked on exclusive basis. However, there are few jeeps which can be booked in single seat basis also. These jeeps do not go to hotel to pick up guests. One has to go to gate for safaris. If number of single passengers/ tourists are less than 06 then remaining cost is divided among present tourists to make payment complete. Single seat option is clearly seen on site at the time of booking.
2 .Tatkal Safaris: These safaris are done by jeeps mainly in premium zones of the park. There are no fix numbers of jeep in this category. Only those jeep appear in this quota which are previously booked but are cancelled due to some reason. This quota opens at 05:00 pm for next day morning & afternoon. The costing is slightly higher than normal/advance quota jeeps.
3. Premium safaris: Only Full day safaris are allowed in Bandhavgarh. There is no concept like Half day safaris as in Ranthambhore. These safaris are zone free safaris. You can see all zones in one single day. These safaris are quite expensive!
These Full day safaris are allotted by special permission of Field Director.
4. Elephant Safaris: If you are doing safari in Tala & Magadhi zones then, you can enjoy elephant for one hours which is termed as JOY-RIDE. On should have advance safari booked & informed at the entry regarding this choice. This short Joy-rides are subject to availability of elephants.
5. Night Safaris: Rececntly official night safaris have been started in Bhandhavgarh in Buffer zones. Few buffer zones are really good for night safaris. Timing is 05;30 pm to 08:30 pm.
Safari Booking Process, Quota & Requirement .
The peak season for safari are Christmas & New year ,Diwali & Holi festival holidays .If you intend to travel during thesee time then 04 months advance planigg is recommended. For rest period 02 montths advance planning will work fine to get good zones.
All safaris except Full day safaris, can be booked by official site www.mponline.gov.in . One has to register on this site & after going to wild life section you need to fill details like name, age, gender, nationality, photo id proof numbers. For Indian nationals Aadhar card, passport, driving license, voter id etc are valid. For Non-Indians passport details & country is mandatory. By booking safari you only secure your seat for safaris. Rest formalities are done on the safari day itself.
In Bandhavgarh only Entrance fee & vehicle entry fee is charged in tickets/ permit.
Guide fee & vehicle fare are to be paid on the safari day.
You can select zones while you are making online booking. The zones once selected cannot be changed. You have to rebook the permit if you want to change the zone. Your previous amount will go waist.
All types of safaris are booked through this site only.
After booking safaris, one has to get boarding pass on the safari day. For getting boarding pass you have report to Central Booking office of the park 01:00 hrs before safari. You have to show original copy of safari voucher & Id proofs to get boarding pass. Boarding pass give you vehicle number & guide name allotted for your safari. After this you are ready for the safari. Boarding pass is must for every safari.
Same Id proof is mandatory (given at the time of booking) to carry during safaris as some times they check at the entry gate.
Choice of guide & driver/jeep.
For every safari booked, the department allots guides & vehicles by roaster system. Professional guides & drivers can be hired by paying extra fee to the department as per rules.
The Entrance fee is different for Indians & Non-Indians in Bandhavgarh from october 21 onwards. The fee structure remains same throughout the season. Weekends hike in fee is found in Bandhavgarh.
Booking Quota.
There are 03 quotas for safari bookings.
Advance quota: In Bandhavgarh, the safari booking opens 120 days prior to visit. Almost 90 % of tickets / permits are made available in this quota.
Wait -listed quota: When in any zone all jeeps are full on website, then you are allowed to book few more tickets like in train.The system indicates the status of the tickets after payment is made.
The wait- listed tickets are likely get confirmed against other cancelled tickets. This is done 05 days prior to the visit. You will get sms from the department regarding confirmation. If your tickets are not confirmed then your amount comes back in your account.
Current quota: As 90% tickets/ permits are made available in advance quota through website only 10% tickets are left for current quota. This quota opens 01:00 hrs prior to each safari shift at the department's booking centre. Guests has to stand in ques to get tickets.
Number of Jeeps/ canters for safaris in Bandhavgarh.
Bandhavgarh has below distribution of jeeps for direct tourists.
Tala: Morning shift 19 & afternoon 18
Magadhi: Morning shift 17 & afternoon 16
Khitauli: Morning shift 15 & afternoon 14
We provide all services from booking safaris to get with boarding pass & jeeps, guides to your hotel as per department's rules and assistance during your stay in Bandhavgarh. We help you to select good zones from sighting point of view. Good guides & professional drivers can be hired by paying extra fee as per department rules. Transport is also provided from Jabalpur, Nagpur, Umaria, Satan, Katni, Kanha & other places as per your itinerary.
Bandhavgarh Safari Packages
Explore the wilderness of Bandhavgarh National Park with our exclusive safari packages. Witness the majestic tigers and diverse wildlife on a private Jeep safari. Capture stunning moments on a photography tour designed for 2 or 4 people. Embark on an unforgettable adventure in the heart of nature. Book your spot now!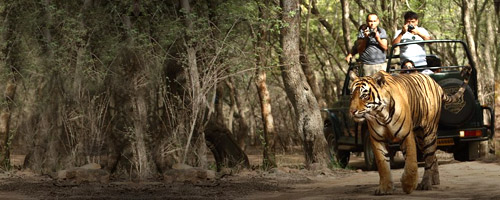 2 Pax Private Jeep Safari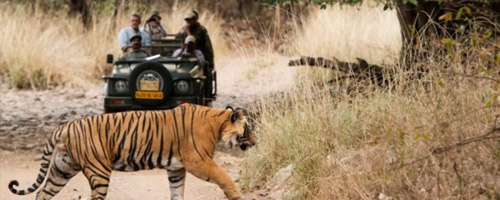 4 Pax Private Jeep Safari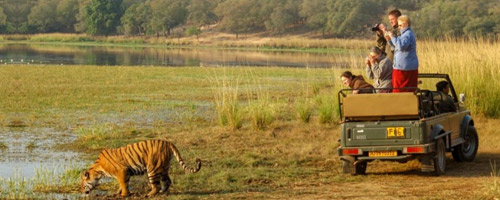 Bandhavgarh Photography Tour
For further info or booking assist please don't hesitate to contact us at [email protected] or Call us or WhatsApp at +917014717217. You also get detailed information.
Request A Quote Now
Plan your holidays in India.
Discover the best holiday packages in India classified according to your interest, theme and destination with Cultural Safari Tours. Make your holiday memorable, book now!
Book Your Trip!