Jim Corbett National Park Safari
Welcome to the Corbett national park, which is one of the best wildlife destinations in India. It is one of the oldest parks of India, established in 1936 as Hailey National Park. This is the place where Project Tiger scheme was started to protect Tigers in India in 1973.
The parks cover an area of 1228 sq. kms which comprises of hills, marshy low lands, riverine belts, grasslands (locally called Chaurs) & huge lake. The main vegetation is of large Sal trees (up to 30 metre height). This is basically Tropical Moist Green Deciduous forest which give you a feeling of lush green forest.
This is among few national parks of India where you can stay inside the park in night to experience nature very close. For this reason, lot of tourists like to visit this park to enjoy this unique experience.
Corbett has 225+tigers,60+ leopards, 25 bears in core areas. It's buffer areas are also rich with 50+tigers & 60+ leopards. Beside healthy population of tigers, deers & other mammals, the park supports 650 different species of birds & 50 different types of Raptors. Asiatic Elephants in the wide-open grasslands of Corbett enhance scenic beauty of Corbett.
Location & How to reach Corbett national park.
Corbett National park is situated at a distance of 02 kms from Ramnagar rail station /town in Uttarakhand state of India.
The nearest airport is Delhi . From Delhi it is 255 kms ( 05:30 hrs) & from Agra is 305 kms (06 hrs) & from Lucknow 412 kms ( 08 hrs) by car.
Safari Zones in Jim Corbett National Park
The park is divided into 07 zones from tourism point of view.
From Wildlife potential point of view , zones can be ordered like this Dhikala, Bijrani, Jhirna, Dhela, Durga Devi, Garjia are core & Corbett land escape ( Buffer). First Five zones are core area and last one is buffer but this zone gives you safari chance even in crowded seasons/ peak vacations time where it is not possible in other parks.
Night Stay Facility inside Corbett Park
As mentioned above Corbett National park allows for night stay in its various core zones. Dhikala it self is heart of Corbett & wild- lifer's dream place to stay in night in Corbett. It offers below rooms in its various campuses. It is divided into 03 parts as Dhikala, Gairal & Sarpduli.
The various zones with number of rooms and with facilities are mentioned below. Some of them have canteens for food & others are without canteen. In the second case you have to carry raw material with you & staff cooks food for you.
Private Hotels : Beside these FRH , there are many private hotels in every category for tourits which can be directly booked .
DhikalaZone Campus
(Dhangadi Gate)
01. Hutment – 06 rooms with canteen.
02. Cabin – 03 rooms with canteen.
03. New FRH (Forest rest house)- 04 with canteen.
04. Annexi -06 rooms with canteen.
05. Annexi – 01 with canteen.
Beside this there are 12 dormitory beds also available in Dhikala.
Gairal Campus
Gairal double bed – 04 rooms with canteen.
Gairal Dormitory has 08 beds.
Sarapduli Campus

Sarapduli Double bed -02 rooms with no Canteen.
Sultan Campus
Sultan Double bed -02 rooms with no canteen.
Bijrani Zone
(night stay from Amdanda Gate)
1. Bijrani FRH – 04 rooms with Canteen.
2. Mailani FRH -02 rooms with no canteen.
Jhirna Zone
(night stay from Dhela Gate)
1. Jhirna double bed – 02 rooms with no Canteen.
Dhela Zone
(night stay from Dhela gate)
1. Dhela FRH double bed -02 rooms with no Canteen.
---
Corbett Park Safari System
The park offers normal safaris in two shifts i.e. morning & afternoon. 90 % safaris are done by Jeeps ( 06 seater open vehcile) & few safaris are done by Canters ( 16 seater open bus). The park's opening & closing time are based on sunrise & sunset. Normally the safari is 04 hrs long with pick up & drop from hotel is included.
Safaris with Night stay Permits:
In one night stay one can have 02 safaris . One in the afternoon on the check in day and next day morning safari. So one has to reach at the entrance gate for night stay around 01:30 pm. So you can check in the allotted FRH guest house & start safari in time. The entrance fee & guide fee are charged with room permit for night stay . For meals & jeep you have to pay separately to canteen & jeep person.
Premium Safaris: Full Day & Half day safaris are not permitted in Corbett .
Elephants Safaris : As per honorable High court's order , elephants safaris are banned in Corbett .
Note: In Dhikala zone day visit safaris by jeeps are not allotted as you can avail it only while staying in Dhikala zone. If some is one unable to get permit for night stay in Dhikala zone, then Canter safari is option. There are 04 canters in morning & afternoon safari & they are approximately 05 hrs long.
Opening & closing dates for Season.
Corbett Parks area's opens for tourism from 15 November to 15 June every year. In order to stay in any above FRH ( forest Rest house), one needs permit for booking which is available 45 day prior to the visit date. Every 01"st date of each month, the official site opens & one can book permit but process is very fast as demand is more & supply is less.
Online Safari / Night Stay Booking Process & Requirement
The official web site for Corbett national park booking is www.corbettonline.uk.gov.in. One has to register on this site to make booking. Full details like name, age, gender, photo id proof number like passport ( for Non Indians), pan card, Aadhar card, driving license etc ( for
Indians) are mandatory. Beside this, photo of one person & mobile number is must for sms verification during booking process.
Every tourist has to carry same id as given in permit before entering the park for safari and night stay.
Note: Especially for booking night stay permits taking help of professional travel agencies is recommended.
Entrance Fee:
There is difference for Indians & non Indians entrance fee. On weekends there is hike in Entrance fee up to 1.5 times for Saturday & Sunday.
Limit for Night Stay Permit
One can stay maximum for 03 nights in one slot for night stay in one zone. For second slot you have to wait for 15 days to get night permit stay in same zone. However, one can book 03 nights in Dhikala & next 03 nights in Bijrani for making stay long.
If you don't get night stay permit of other zones except Dhikala then there are hotels of every category scattered around Corbett National Park. In this case you can have jeep safari to enjoy this beautiful park.
Number of Safari jeeps in other zones except Dhikala for day visits.
Beside Dhikala zone , other zones offer Day visit jeep safaris as other national parks. These jeep safari are booked too in advance like night stay i.e 45 days prior to the visit. These details of jeep safaris available for tourists are as below.
Durga Devi
11 jeeps for Morning & 11jeeps in afternoon safaris.
Dhikala
Only 04 canters are available for day visit for morning & afternoon safaris.
Bijrani
30 jeeps for Morning & 30 jeeps in afternoon safaris.
Dhela
15 jeeps for Morning & 15 jeeps in afternoon safaris.
Jhirna
30 jeeps for Morning & 30 jeeps in afternoon safaris.
Corbett Land Escape zone: no limits on jeeps for safari.
Note: Dhela & Jhirna Zones open all the year around for safari. The other rest zones they open as per the park calendar. As per the high court's orders elephant safaris in Corbett National Park are banned for a while.
We provide all services from booking permits to arranging jeeps, and guides as per department rules and assistance during your stay in Corbett National Park. Good Guides & professional drivers can be hired by paying an extra fee as per department rules. Transport is also provided from Delhi, Agra & other places as per your itinerary.
Jim Corbett Safari Packages
Explore the wilderness with our Jim Corbett Safari packages. Perfect for 2 or 4 pax, including specialized photography tours. Immerse in nature's beauty and capture remarkable moments. Book now for an unforgettable experience.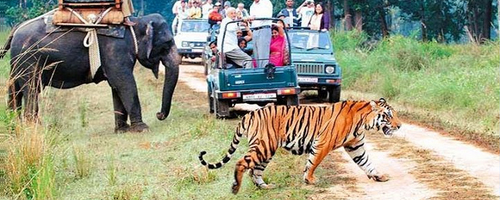 2 Pax Private Jeep Safari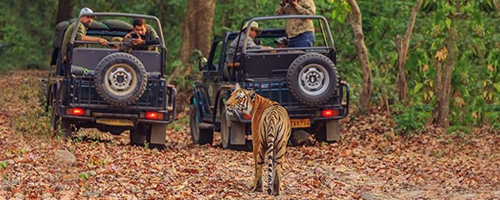 4 Pax Private Jeep Safari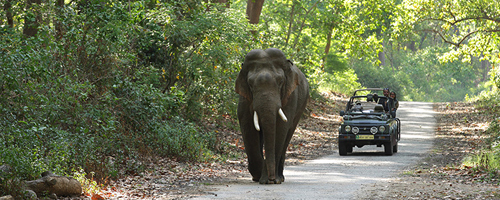 Jim Corbett Photography Tour
Request A Quote Now
Plan your holidays in India.
Discover the best holiday packages in India classified according to your interest, theme and destination with Cultural Safari Tours. Make your holiday memorable, book now!
Book Your Trip!