Kanha National Park Safari
---
Welcome to Kanha National park! This is a huge park & holds half of India's forests. It covers an area of 2051 sq. kms all together in two districts i.e. Mandla & Balaghat of Madhya Pradesh (Central India). The Kanha Reserve is located in the Maikal Range which is part of Satpura hills.
The speciality of Kanha is the presence of Hard Ground Barasingha. Once this species was almost about to extinct form this planet, but all thanks to the hard efforts of the department to bring them back up to 500 marks.
There are about 100+ tigers, 145 + leopards, 80+ sloth bears, 300 species of birds,43 species of mammals, 26 species of reptiles & 500 species of insects.
Location & how to reach Kanha
Kanha is located in Mandla & Balaghat district of Madhya Pradesh. It 160 kms(03hrs) from Jabalpur, 250 kms from Raipur (05 hrs), 220 kms (05 hrs) from Nagpur, 215 kms (04:15 hrs) from Bandhavgarh National park, 207 kms (04:15 hrs) from Pench National Park.
The nearest airports are Jabalpur & Nagpur.
Safari Zones & Gates in Kanha
From tourism point of view, the park is divided into 08 zones. Out of them Kanha, Kisli, Mukki & Sarhi are core area & Khatia, Khapa, Sijora & Phen are buffer area.
There are two gates to enter for safari Khatia & Mukki. The Khatia Gate is highly recommended for choosing safaris as it offers flexibility to all core areas in each safari shifts i.e. morning & afternoon. Where as Mukki gates fails to do safari especially in afternoon for some zones.
Mukki Gate is about 50 kms from Khatia gate on the other side.
Night Stay facility inside Kanha
Kanha doesnot have staying faciclity in core areas . Few small guest houses for staying are located at the entrance gate itself. They can be booked by department office.
Private Hotels: Private hotels are there on both gates i.e. Mukki & Khatia gate.
Opening & closing date of Kanha & weekly off.
Kanha opens from 01"st October to 30"th June every year. This park does not open in monsoon season i.e. July, August & September.
Kanha does not offer safari in afternoon shift on every Wednesday. Besides this the park remains close completely on festival of Holi in the month of March every year.
Types of Safaris in Kanha
Broadly safari can be classified into 03 types Kanha.
Normal Safaris: Mostly safaris are done by jeep (06-seater) in Kanha. There are only 02 Canter (20-seater open bus). There are 02 shifts i.e. morning & afternoon. Morning shifts are longer here (till 11:00 am). Afternoon safaris are shorter here & less number of jeeps are allowed. However, number of canters are same for morning & evening shifts.
Note: In Kanha mostly jeeps are booked on exclusive basis. However, there are few jeeps which can be booked in single seat basis also. These jeeps do not go to hotel to pick up guests. One has to go to gate for safaris. If number of single passengers/ tourists are less than 06 then remaining cost is divided among present tourists to make payment complete. Single seat option is clearly seen on site at the time of booking.
Tatkal Safaris: These safaris are done by jeeps mainly in premium zones of the park. There are no fix numbers of jeep in this category. Only those jeep appear in this quota which are previously booked but are cancelled due to some reason. This quota opens at 05:00 pm for next day morning & afternoon. The costing is slightly higher than normal/advance quota jeeps.
Premium safaris: Only Full day safaris are allowed in Kanha. There is no concept like Half day safaris as in Ranthambhore. These safaris are zone free safaris. You can see all zones in one single day. These safaris are quite expensive!
These Full day safaris are allotted by special permission of Field Director.
Safari Booking Process, Quota & Requirement
Booking safaris.
All safaris except Full day safaris, can be booked by official site www.mponline.gov.in . One has to register on this site & after going to wild life section you need to fill details like name, age, gender, nationality, photo id proof numbers. For Indian nationals Aadhar card, passport, driving license, voter id etc are valid. For Non-Indians passport details & country is mandatory. By booking safari you only secure your seat for safaris. Rest formalities are done on the safari day itself.
In kanha only Entrance fee & vehicle entry fee is charged in tickets/ permit.
Guide fee & vehicle fare are to be paid on the safari day.
You can select zones while you are making online booking. The zones once selected cannot be changed. You have to rebook the permit if you want to change the zone. Your previous amount will go waist.
All types of safaris are booked through this site only.
After booking safaris, one has to get boarding pass on the safari day. For getting boarding pass you have report to Central Booking office of the park 01:00 hrs before safari. You have to show original copy of safari voucher & Id proofs to get boarding pass. Boarding pass give you vehicle number & guide name allotted for your safari. After this you are ready for the safari. Boarding pass is must for every safari.
Same Id proof is mandatory (given at the time of booking) to carry during safaris as some times they check at the entry gate.
Choice of guide & driver/jeep.
For every safari booked, the department allots guides & vehicles by roaster system. Professional guides & drivers can be hired by paying extra fee to the department as per the rules.
The Entrance fee is different for Indians & Non-Indians in Kanha. The fee structure remains same throughout the season. Weekends hike in fee is found in Kanha.
Booking Quota.
There are 03 quotas for safari bookings.
Advance quota: In Kanha, the safari booking opens 120 days prior to visit. Almost 90 % of tickets / permits are made available in this quota.
Wait -listed quota: When in any zone all jeeps are full on website, then you are allowed to book few more tickets like in train.The system indicates the status of the tickets after payment is made.
The wait- listed tickets are likely get confirmed against other cancelled tickets. This is done 05 days prior to the visit. You will get sms from the department regarding confirmation. If your tickets are not confirmed then your amount comes back in your account.
Current quota: As 90% tickets/ permits are made available in advance quota through website only 10% tickets are left for current quota. This quota opens 01:00 hrs prior to each safari shift at the department's booking centre. Guests has to stand in ques to get tickets.
Number of Jeeps/ canters for safaris in Kanha.
kanha has below distribution of jeeps for direct tourists.
Kanha: Morning shift 24 & afternoon 17
Kisli: Morning shift 09 & afternoon 07
Mukki: Morning shift 21 & afternoon 19
Sarhi: Morning shift 13 & afternoon 11
We provide all services from booking safaris to getting boarding pass & jeeps, guides to your hotel as per the department's rules and assistance during your stay in Kanha. We help you to select good zones from sighting point of view. Good guides & professional drivers can be hired by paying an extra fee as per department rules. Transport is also provided from Jabalpur, Nagpur, Bandhavgarh or Pench National Park & other places as per your itinerary.
Kanha National Park Safari Packages
Experience the raw beauty of nature with our tailored safari packages at Kanha National Park. Whether you're a solo traveler, an adventurous couple, or a group of four looking for a unique journey, we have something to fit your needs and desires. From thrilling encounters with majestic tigers to capturing Kanha's breathtaking landscapes through photography tours – each package promises an unforgettable wildlife experience that will immerse you in the heart of the wild.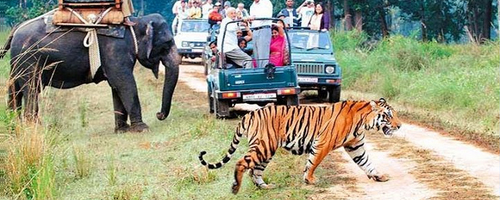 2 Pax Private Jeep Safari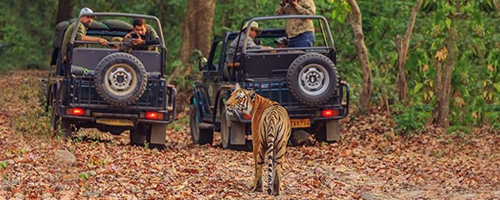 4 Pax Private Jeep Safari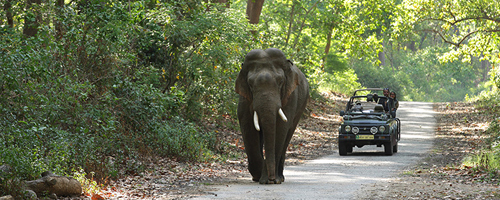 Kanha Photography Tour
For further info or booking assist please don't hesitate to contact us at [email protected] or Call us or WhatsApp at +917014717217. You also get detailed information.
Request A Quote Now
Plan your holidays in India.
Discover the best holiday packages in India classified according to your interest, theme and destination with Cultural Safari Tours. Make your holiday memorable, book now!
Book Your Trip!