National Chambal Gharial Sanctuary
National Chambal Sanctuary is also known as National Chambal Gharial Wildlife Sanctuary. Among tourist, it famous as Chambal Boat Safari. It is one the major conservation project with joint efforts of three states i.e. Madhya Pradesh, Rajasthan & Uttar Pradesh. Madhya Pradesh was the first state to recognize it as wildlife sanctuary in 1978.
The main focus of Chambal Gharial wildlife sanctuary to protect critically endangered Gharial, Red crowned roof turtle & endangered Ganges dolphin.
This sanctuary is covering an area of about 5400 sq. km which is a huge span. The topography is full of ravines, hills & sandy beaches. It is part of Kathiar-Gir dry deciduous forest eco region. It is protected with wildlife conservation act 1972 & its head quarter is in Morena, Madhya Pradesh.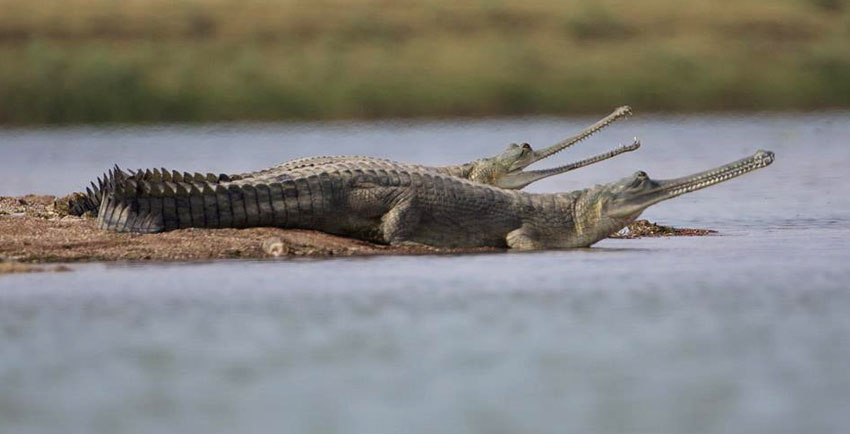 Wild Stock of Chambal wild life Sanctuary!
This area is really rich in Reptiles class.
Critically endangered Gharials, Red crowned roof turtles & Dolphins are found here. Other animals which are also in Threatened category like mugger crocodile, smooth-coated otters, Striped Hyena & Indian wolfs are also in conservation list.
Chambal river support 08 out of 26 rare species of turtle family like Indian narrow-headed soft shell turtle, three- striped roof turtle & crowned river turtle. Other reptiles live are Indian flap-shell turtle, soft shell turtle, Indian roofed turtle, Indian tent turtle and Monitor lizard.
Mammals are also seen which includes Sambhar deer, Neel Gai (blue bull), Indian gazelle, Rhesus Monkey, Hanuman Langur, Indian grey & small Asian mongoose, Bengal Fox , Palm civet, jungle cat, wild boar, northern Palm squirrel, Indian crested porcupine, Indian hare, Indian flying fox & Indian long eared hedgehog.
Birding:
The National Chambal sanctuary is listed in IBA for birding. About 320 species are there including migratory & locals' birds. Siberian birds by migration make the avia fauna very rich.
If someone one want see Indian skimmer then Chambal birding trip is highly recommended. Other vulnerable species include Sarus crane, Pallas's fish eagle & Indian Courser.
Nearly threatened species include Pallid Harrier & lesser Flamingo.
Winter visitors to the Chambal area are Black- bellied tern, red-crested pochard, ferruginous pochard and bar headed goose. Great thick knee, greater flamingo, darter & brown hawk owl are also found.
Plants: Common plants found are Khair ( acacia catechu), Palas ( butea monosperma), Churel (holopetelea intergrifolia), Ber ( ziziphus marutiana) and grassy patches on both side of the river.
Best Time to Visit / Rules:
This sanctuary opens from October to June every year.
July, August & September is strictly closed.
Best time to visit is from November to March.
Accommodations:
All types of hotels are available if you are staying in Agra, Dholpur, Ranthambhore & Kota. At few places tented properties are available even on the bank of Chambal river itself.
Activities / Safaris in National Chambal Wildlife Sanctuary
This area offers lot nature watching activities. Photography of Gharials, Dolphins, other reptiles, water bodies & beautiful landscape is easily done by boat ride. Walking in trails in ravines & along the bank of the rivers gives you a chance to observe nature every closely.
Although Chambal River is 1,024 km long but when it comes for tourism only few places are there which serves the purpose. Chambal Gharial safari can be done while you are in Agra, Ranthambore, Dholpur & Kota.
Boats are available at theses destinations with driver & official guides. They are hired on hour basis or length of tracks.
However, there are few private hotels at few places on bank of the river they also do private safaris by boats but they are not official.
The various points for boat safari in Chambal River are mentioned as below.
Agra – The boats are available at Raj Ghat Dholpur, after crossing the Chambal bridge in Madhya Pradesh. Average distance is 55 kms from any hotel in Agra if you staying in any hotel on Fateh-bad Road Agra.
Dholpur – Raj Ghat boating point after crossing the Chambal bridge . Same detail as from Agra.
Kota: There are two points One is Jawahar Sagar & Kota barrage. The Jawahar Sagar area is more recommended.
Ranthambhore: This boating point is Pali ghat. This is 45 kms from any hotel if you are staying in any hotel on Ranthambhore road.
Note: The length/ duration of boat safari is different at each places as per local department & importance of wildlife interests.
Request A Quote Now
Plan your holidays in India.
Discover the best holiday packages in India classified according to your interest, theme and destination with Cultural Safari Tours. Make your holiday memorable, book now!
Book Your Trip!