Ranthambore National Park Safari
Welcome to Ranthambhore, which is one of the most famous parks of India from tigers sighting point of view. The Semi Dry Deciduous forest in Ranthambhore enables you to penetrate up to 50 metres for Big cats' sightings. The total area of the park is 1332 sq. kms. It spreads in three districts called Sawai Madhopur, Karuali & Kota. The main hill ranges are The Aravali.
There are 70+tigers, 100+ leopards, 60+ bears & 325 different species of birds are found in Ranthambhore.
Location & How to reach Ranthambore
Ranthambhore National Park is located in Sawai Madhopur district of Rajasthan. From Jaipur it is 160 kms (03:30 hrs), from Delhi it is 375 kms (06 hrs) & from Agra it is 300 kms(05hrs).
Beside it is well connected by train routes from Mumbai, Delhi & cities from India. Nearest airports are Jaipur & Delhi.
Night stay inside Ranthambore
There is no night stay facility inside the park in Ranthambhore, like other few national parks such as in Corbett, Dhudhwa & Pilibhit Tiger reserve.
Private Hotels: There are several hotels of every budget for tourists in Ranthambhore.
Note: There is no Night safari officially allowed in Ranthambhore.
Safari System in Ranthambore
Ranthambhore National Park is divided into 10 zones for safari purpose. This is done to avoid pressure of vehicles in side the park. Zones 01 to 05 are oldest part of the park & zones 06 to 10 are new extended part of the park. Both these groups of zones are in opposite direction.
Opening & closing Date of Park
Zones 01 to 05 opens from 01"st October to 30"th June every year. Rest zones they remain open for the whole year.
Safari vehicles in Ranthambhore.
Safaris are done by Jeeps (06-seater) & Canters (20-seater open bus). There are limited number of vehicles in every zone which are booked online as per department rules by their website.
Types of Safaris in Ranthambhore
Broadly safari can be classified into 03 types Ranthambhore.
Normal Safaris: These safaris are 03:30 hrs long . Done by canters & jeep. One zone is allotted/selected & you have to confine in that zone. Can be booked in advance quota & current quota. They operate as morning & afternoon safaris.
Note: In Ranthambhore you can book exclusive jeep or canter as well as sharing. Here after booking single seat, it becomes duty of Department to send you park. They will not charge other difference to make it set of 06 (for jeep) Or 20 (for canter).
Tatkal Safaris: These safaris are done by jeeps mainly in premium zones of the park. They are expensive safaris as 10,000/-INR extra is charged by department for allotting jeep on last moment beside Entrance fee, guide fee & vehicle fare. These are available in zone 01 to 06. Tatkal canters are available in zone 06 & 10. These are booked 07 days prior to the visit of date every day at 10:00 am IST.
Premium safaris: These are Full day & Half day safaris by jeeps only. In these safaris you can spend full day & half day inside the park as per department's rules. These safaris are zone free safaris. You can see all zones in one single day. These safaris are quite expensive!
There are only 05 jeeps in this quota & are booked in advance quota only.
NOTE: These safaris are banned from booking for next season from 20 August 22.
Safari Booking Process, Quota & Requirement
All these safaris can be booked by official site on www.rajasthan.gov.in . One has to register on this site & after going to wild life section you need to fill details like name, gender, nationality, photo id proof numbers. For Indian nationals Aadhar card, passport, driving license, voter id etc are valid. For Non-Indians passport details is mandatory. By booking safari you only secure your seat for safaris. Rest formalities are done on the safari day itself.
All the charges as Entrance fee, guide fee & vehicle fare are to be paid at the time of booking seats/ safari.
You can select zones while you are making online booking. The zones once selected cannot be changed. These zones can be changed only by the department by extra fee & if they are available. This is very difficult process.
All types of safaris are booked through this site only.
After booking safaris, one has to get boarding pass on the safari day. For getting boarding pass you have report to Central Booking office of the park 01:00 hrs before safari. You have to submit scanned copy of safari voucher & Id proofs to get boarding pass. Boarding pass give you vehicle number & guide name allotted for your safari. After this you are ready for the safari. Boarding pass is must for every safari.
Same Id proof is mandatory (given at the time of booking) to carry during safaris as some times they check at the entry gate.
Choice of guide & driver/jeep.
For every safari booked, the department allots guides & vehicles by roaster system. Professional guides & drivers can be hired by paying extra fee to the department as per rules.
Entrance fees are different for Indians & Non-Indians in Ranthambhore. The fee structure remains same throughout the season. Weekends hike in fee is not in Ranthambhore.
Booking Quota.
There are two quotas for safari bookings.
Advance quota: This quota remains open throughout the year. In this system the safari booking opens 365 days prior to visit. You can book next season safari right now. You can book seat & become sure for safari in advance. Normally 75 % of the vehicles are open in advance quota. This quota stops 02 days before safari date.
Current quota: This quota opens every day at 10 :00 am for same day afternoon & next day morning safari. The remaining 25 % seats are booked for last time comers. This means that on 01"st of October 2020 at 10:00 am, current quota for 01'st October afternoon safari & 02" nd October morning seats will open.
For example, if there are total 05 jeep in any zone then 03 jeeps will be available in advance quota & rest 02 are released in current quota booking every day at 10:00 am. So current quota is last hope for safari, so taking help of professional agencies is recommended. All safaris are confirmed on first come first basis. There is no waitlist system in Ranthambhore for safaris like in other parks such as Bandhavgarh, Kanha, Pench, Tadoba etc.
Number of Jeeps/ canters for safaris in Ranthambhore.
Every zone in Ranthambhore has 05 jeeps & 05 canters for normal pricing safari. In zone 08 & 07 no canters are allowed due to tough terrain of the hills. So, these zones have jeeps only.
Tatkal jeeps, Full day & Half day jeeps are extra then normal pricing jeep.
All together there are 140 vehicle including jeeps, canters, tatkal & premium safaris.
We provide all services from booking safaris to get with boarding pass & jeeps, guides to your hotel as per the department's rules and assistance during your stay in Ranthambhore. We help you to select good zones from sighting point of view in current quota. Good guides & professional drivers can be hired by paying extra fee as per department rules. Transport is also provided from Delhi, Jaipur, Agra & other places as per your itinerary.
Ranthambore Safari Packages
Explore Ranthambore's majestic wildlife with our tailored safari packages. Choose from options like the intimate 2 Pax, lively 4 Pax, or convivial 6 Pax safaris. Opt for the exclusivity of a private safari or embrace camaraderie with a sharing safari. Capture the park's beauty with our specialized Ranthambore photography tour package. Immerse yourself in nature's splendor and capture memories that last a lifetime. Book your adventure today and embark on an unforgettable journey through the heart of Ranthambore's wilderness.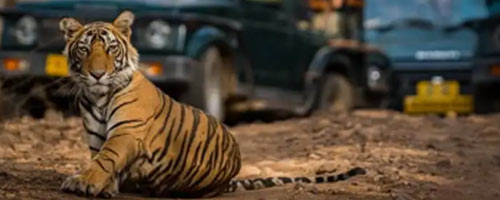 2 Pax Sharing Jeep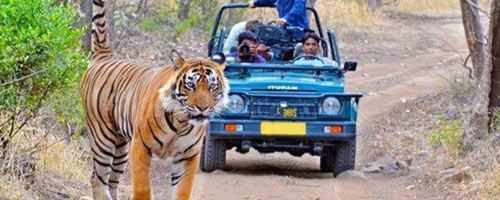 2 Pax Private Jeep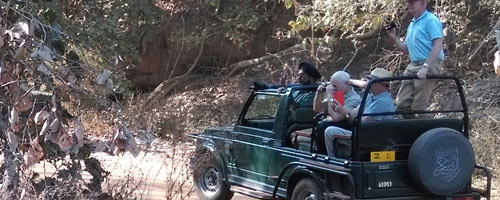 4 Pax Private Jeep
---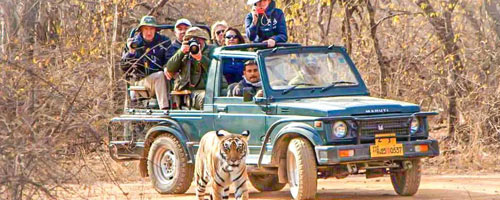 6 Pax Private Jeep
---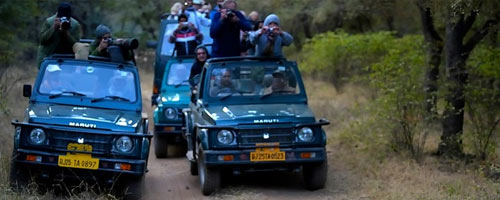 Ranthambore Photography Tour
Request A Quote Now
Plan your holidays in India.
Discover the best holiday packages in India classified according to your interest, theme and destination with Cultural Safari Tours. Make your holiday memorable, book now!
Book Your Trip!