Kaziranga National Park Safari
Kaziranga National Park is situated in north east state of India called Assam. The north east part of India is called Seven Sisters states consisting of seven states .The whole belt is very rich in Biodiversity.
Kaziranga National park is destination of dream for every wild lifer.
The total area of the park is about 430 sq kms which consist of dense forest , elephant grass meadows & swampy lagoons. The Park is famous for Greater One horned Rinoceros. Approximately more then 2000 Indian one horned rhinoceros are believed to reside in this park which counts 2/3 population of the world.
The area was declared Reserve Forest area in 1905 . Credit goes to Mary Curzon (wife of Lord Curzon -Viceroy of India). It is know that she visited the area but could spot any rhinoceros that time. Then she urged her husband to do something to protect the endangered species. In 1908 It was declared as wild life sanctuary. In 1985 it was included in World heritage site by UNESCO.
In 2006, the park was declared as Tiger Reserve.
The park is located in Eastern Himalaya's districts of Golaghat & Nagaon.
Beside One horned rhinoceros , the park is also famous as breeding area for elephants, swamp deer & wild water baffulos.
Birding is also rich as this park is recommended by Bird life International. Many birds migrate to this area in winter from Central Asia . Few of them are lesser white-fronted goose, ferruginous duck, Baer's pochard duck and lesser adjutant, greater adjutant, black-necked stork, and Asian Openbill stork.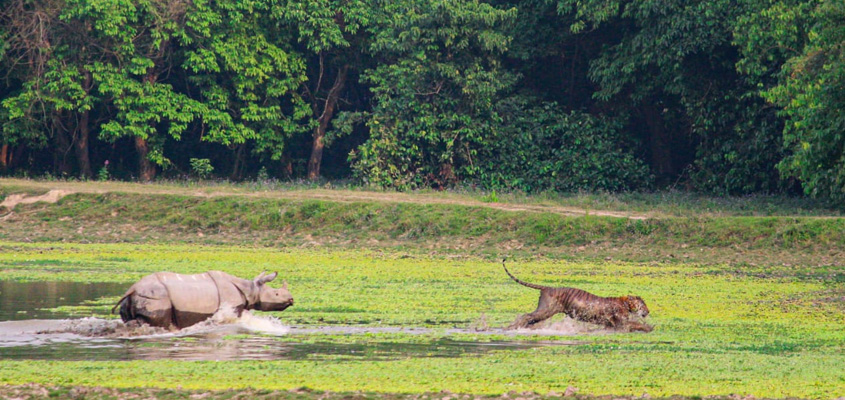 The most impressive part of the Kaziranga beside its animals is the conservation activities. By which the park managed to protect the one of the endangered species of rhinoceros.
Due to difference of heights in Eastern & Western area of the park, one can experience four types of vegetation i.e., tropical moist mixed deciduous forests, and tropical semi-evergreen forests & alluvial inundated grasslands, alluvial savanna woodlands. Famous trees of the park are elephant apple, khumbi, Indian gooseberry & cotton tree.
Inidan Rinoceros is the main attraction to the visitors but other animals can also been seen . They are Hoolock Gibbon, Tiger, Leopard, Indian Elephant, Sloth Bear, Wild water buffalo, swamp deer, etc
How to Reach Kaziranga :
The two comfortable point are Guwahati & Jorhat.
From Guwahati it is 200 kms ( 04hrs) & from Jorhat it is 120 kms ( 02 hrs) by car. Guwahati is well connected by flights from Delhi & Kolkata . One can reach there by train also.
Best Time to Visit:
The park opens for tourists from November to April. The park is closed from May to October due heavy rain every year.
The best time to see rhinoceros is winter i.e November to February.
Mode of Safaris & Timing:
Safari are done by jeeps & elephants. There are two safaris in a day morning & afternoon.
Morning safaris 08:00 am to 10 am & afternoon safaris 02:00 pm to 04:00 pm.
Elephants safaris are done in only morning & they are one hour long.
05:30 am to 06:30 am & 06:30 am to 07:30 am.
Safari Gates / Zones.
The park is divided into four zones . Every zone has it uniqueness regarding animals & scenic beauty. The entry gates to the various zones are as below.
Mihimukh in Central Range at Kohora
Bagori in Western Range at Bagori
Agaratoli in Eastern Range at Agaratoli
Ghorakati in Burapahar Range at Ghorakhati
Booking process & fees structure:
There is no online system of booking. The safaris are booked by department manually at counters. As there is limit of vehicles so advance booking is recommended.
There is fee difference for Indian & Non-Indian guest.
Accommodations:
The central has various types of hotels to cater clients. This part is main centre of activies in Kaziranga National Park. All other zones can be accessed by staying in any hotel in Kaziranga.
Other attractions around Kaziranga:
Orang National Park (114 kms)
Hoollongapar Gibbon Sanctuary
Kakochang fall (46 kms)
Deopahar (51 kms)
Addabarie Tea Estate
Other parks & places near by:
Shillong
Nameri National Park
Guwahati
Manas National Park
Dibru-Saikhowa National Park
Request A Quote Now
Plan your holidays in India.
Discover the best holiday packages in India classified according to your interest, theme and destination with Cultural Safari Tours. Make your holiday memorable, book now!
Book Your Trip!