Bandhavgarh National Park is located in the Umaria district of MP, India. This park is one the best sights to trail the majestic Bengal tiger in their natural habitat. The core area of the park is spread over 100 km² and is home to more than 50 tigers.
The park has a large breeding population of leopards, wild dogs, Nilgai, Wild Boars, Indian Bison, and various species of deer.
Bandhavgarh Jungle Safaris
In Bandhavgarh, tourists are allowed into the park twice each day for 3-hour Jeep safaris, once at dawn, and again in late afternoon. There are no premium zones and the National Park has been divided into three main safari zones, namely – Tala Zone, Magadhi Zone and Khitauli Zone. Tala Zone is the oldest and richest zone in terms of biodiversity, mainly tigers.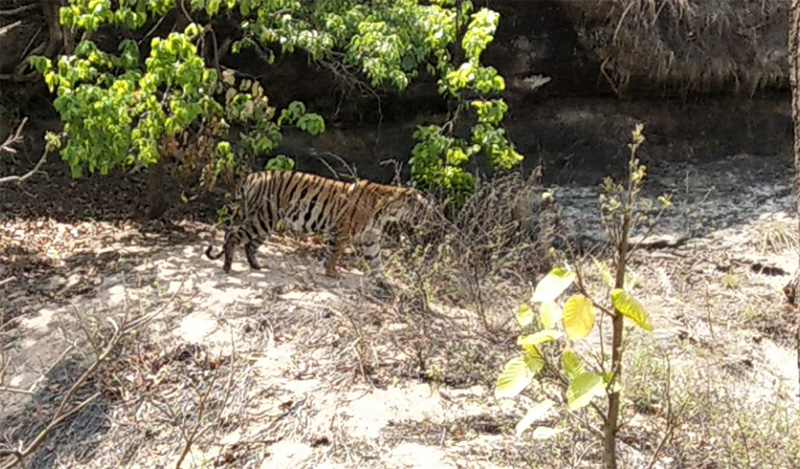 Jeep Safari
Open 4WD Gypsies are normally used as safari vehicle. The Jeeps stick to well-worn tracks but the Park covers a large area and you'll often end up on your own. Maximum 06 members are allowed to sit in a jeep and you cannot visit the Park without a Jeep and a guide.
Elephant Safari
Elephant are used every morning by the forest department for Tiger – tracking. If Tiger is spot then the elephant will take you directly to the Tiger by a nearby jeep/car. A forest department guide must always accompany you with a naturalist from our side (optional). This guide will be able to direct you and point out wildlife.
Bandhavgarh Safari Timing
| | | |
| --- | --- | --- |
| Months | Morning Timing | Evening Timing |
| 01th Oct – 31th Dec | 6:00 AM- 11:30 AM | 3:00 PM – 6:00 PM |
| 01th Jan – 31st Mar | 6:30 AM – 11:30 PM | 3:00 PM – 5:30 PM |
| 01st Apr – 30th June | 6:00 AM – 11:30 AM | 3:00 PM – 7:00 PM |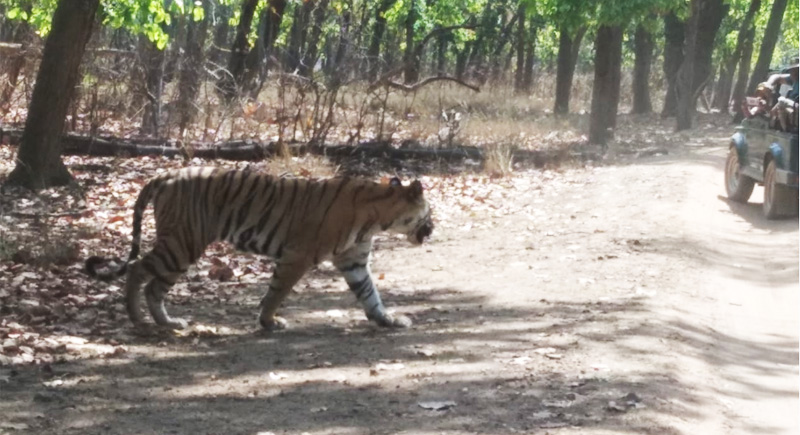 Bandhavgarh Safari Cost & Permits
There is a park permit charge on top of the price of hiring a jeep, and any elephant rides are extra. Any safari organised with your lodge normally includes all the jeep and park fees although elephant rides are still extra. You don't have to pay in the jungle but normally pay at your lodge later, although taking a little cash to tip the elephant rider is a good idea.
Park Entry Fees
Maghadhi, Tala and Khitauli Safari Zones Entry Fees:
The entrance fee is same for Indians: 3000/- for week days (Monday to Friday) & 5000/- for Saturday, Sunday & Holidays.
The entrance fee is same for Foriegners. 6000/- for week days (Monday to Friday) & 10,000/- for Saturday , Sunday & Holidays.
All rates are in INR.
Night Safari Charges: Night safaris charges all together comes around 7500/-INR
Guide fees: 700/- per safari.
Professional Guide ( other than other guide allotted by the department). If you take professional guide then same guide will accompny you in all safaris. The cost of this guide is 2000/-INR per safari.
Looking for an exciting safari experience in Bandhavgarh? We offer convenient and reliable Bandhavgarh Safari Booking services to ensure you have the best wildlife adventure. With our experienced guides, comfortable vehicles, and affordable prices, we make it easy to explore all that this beautiful region has to offer.
Note: The Department reserves right to change zone of safari on last moment due local problems realated to park safety . How ever safaris are done as per departments rules.
---
Jeep Safari Charges
This cost is per trip entry fees for one jeep for 6 persons.
Generally, the jeep fare is between 3500 to 4500/-INR per safari. Pick up & drop charges from your hotel are extra depending on the distance.
For Buffer zones, it could be from 4000 to 5000/-INR.
Professional drivers cost with same jeep 3500/-INR per safari.
Note: All above charges are without service charges & GST tax.
Elephant Safari:
Now a days Elephants safaris have changed. Previuosly they were many categories like Full day elephant safari, 03 hours elephant safaris.
Now generally Joy ride is available for half an hour (30 minutes). It comes around 1500/-INR per person. For this you have advance permit & need to inform the park athuority one day prior to the visit. These Joy rides are subject to availabilty.
Beside this, 03 hrs long elephant ride is available if some one go for Full Day safaris ( zone free safaris). The approximate cost of this elephant safari is 28,000/-INR.
Note: These rates are basic rates & doesnot include service charges & Taxes. For more details pls write to us at info@culturalsafaritours.com