Now a days, the current booking of jeeps has been stopped in Ranthambhore. So, it has become very difficult to get jeeps in good zones even 04 months in advance. Rarely people plan earlier than this. Inbound tourists are facing problems in making itineraries. They are left only with instant quota jeeps or canters (20-seater open buses) for safaris. The instant quota jeeps are almost thrice the cost of normal jeeps and mostly people avoid canters because they get delayed to the park gates.
In such a situation if some one is planning to do Ranthambhore with Delhi, Jaipur & Agra i.e. The Golden triangle tour then they can skip Ranthambhore & add Panna Or Sanjay Dhubri to their itinerary. Panna is easily accessible from Agra and after that you can reach Jaipur. If you can add one more night to the plan then Kanha, Bandhavgarh can too be done with 03 safaris.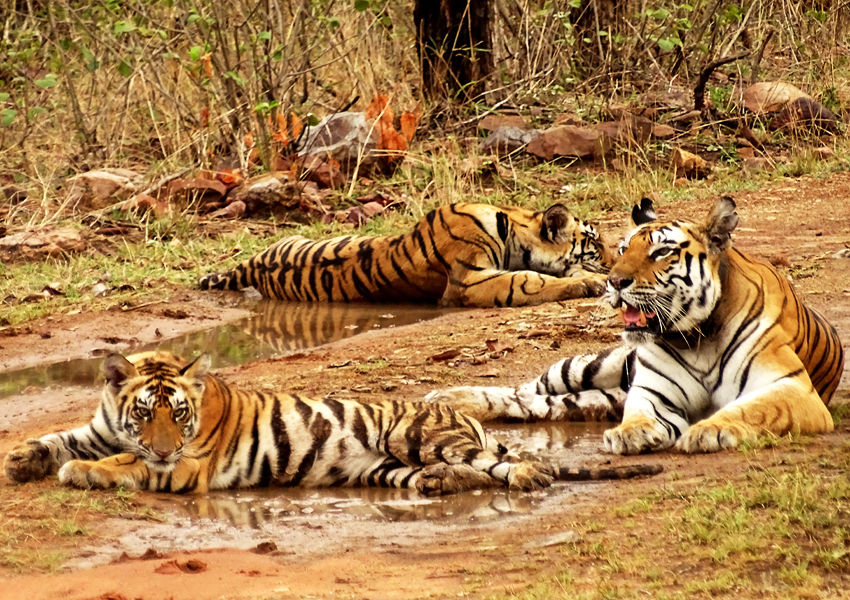 It will surely be wise not to spend too much money on last minute jeeps in Ranthambore because these jeeps are too subject to confirmation 07 days prior to your visit. Besides this, the flexibility of Panna National Park is good enough. Very less restrictions make more chances of sightings. The P151 with 04 cubs and P141 with 02 cubs roam freely in their areas. The last season's records of sightings prove this.
Planning a trip can be overwhelming, so here is an example of what your itinerary could look like.
Day 01. Arrive Delhi.
Overnight in Delhi hotel.
Day 02. Delhi full-day sightseeing including Old & new Delhi.
Day 03. Delhi to Agra (04 Hrs.).
Spend the afternoon taking in some of Agra's sight. Then, spend the night at a hotel in the city before continuing your journey.
Day 04. Visit Taj Mahal – Later board the train to Jhansi
Start your day early with a visit to the Taj Mahal and then board the train for Jhansi at 10:00 am (02 :30 hrs. by Train). After arriving in Jhansi, you will drive to Panna National Park (03 Hrs.). Once there, check into your resort and take some time to relax. In the evening, go on a night safari from 06:00 pm to 09;00 pm before settling down for an overnight stay in your Panna resort.
Day 05. Panna National Park – Katni to Jaipur by Train
Start your day early and embark on an exciting safari in the park, with a pack breakfast to enjoy while you explore. After lunch, take another safari before having dinner and heading off to Katni (02:30 hrs.) where you will board an overnight train at 22:10 to Jaipur. Enjoy your journey as you sleep comfortably in the train throughout the night.
Day 06. Jaipur
Arrive Jaipur around 11:30 am. Transfer to hotel. Start sightseeing of Jaipur. overnight in hotel in Jaipur.
Day 07. Jaipur Drop or Return Back to Delhi
After breakfast, finish your remaining sightseeing of Jaipur. Then you can either drop off at the Jaipur airport or drive back to Delhi for your flight home (6 hours).