Ranthambore: Advance booking for safari to open for Entire season soon.
01 August 18, the forest department has amended advance booking system. Now from 15 September 18, advance booking will open for the entire season i.e 30 June 19. Presently it is being opened for 90 days prior to the date of visit. It is noteworthy that main season of the park is from 01 st October to 30 th June, when all the zones of the park are open.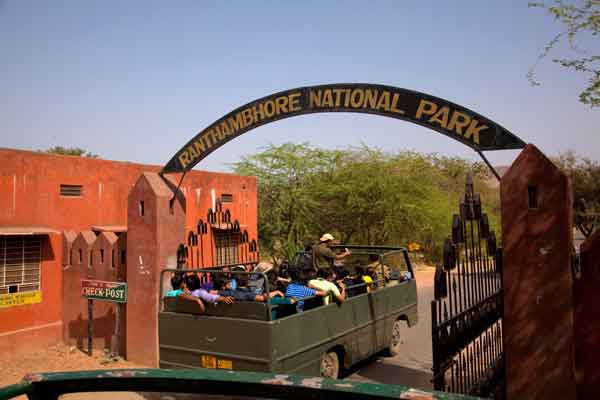 This will benefit tourists who plan well in advance. For late planners it will be a blow. The reason being that there are only 15 jeeps in each shift in 01 to 05 zones in advance quota in Ranthambore. There are about 115 hotels altogether. The zones 01 to 05 are considered as prime zones of Ranthambore. There are only 90 seats in one shift against 115 hotels. Beside this everyone wants to go in jeep. Although the other option for the safari is Canter. Canter is mainly used by groups.
If some one wants to go in jeep then Tatkal/instant quota is there. In this system one has to pay 10,000 /-INR extra beside normal charges of entrances, guide fee & jeep fare. This quota opens 07 days prior to the visit.
The department gives logic that tourist were unable to book jeeps as the local agents were using some special software to book jeeps. But nobody is pointing that fact about hotels and available jeep ratio.
The website for the booking was also not up to the mark. Why they made such website which can be easily bypassed by soft wares?
Even by this new change i.e. opening of booking for the entire season will not be of much help for foreigner tourists as mostly their cards are not acceptable for making payment.
Also the current booking system for normal jeeps & canters is going to be change but still not clear the way it will work.
Any way we should welcome the new changes which are done for the better facilities of tourists!
---
Ranthambore Safari Booking
Cultural Safari Tours is a Government authorised tour and travel agency which is based in Ranthambore National Park. Get complete information on Ranthambore safari booking and for any assistance in Ranthambore regarding Jeep safari Booking, Canter safari Booking, Ranthambore Full day safari and Half day safari bookings, pick ups and drops from Sawai Madhopur railway station or from Jaipur and choosing good guides.
Please write to us info@culturalsafaritours.com or call at +91-7014717217 (24 hrs helpline & Whatsapp)